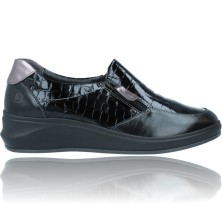 Regular price
€74.95
Price
€55.00
OFFER!
Urban shoes with zipper closure and elastic for Women from the manufacturer Suave , which is a specialist in comfortable footwear to be able to use with total peace of mind if we have delicate feet.
Women's footwear made with skins. Beautiful combination of smooth skins and fantasy skins and patent leathers, achieving an attractive design.
Light and comfortable urban shoes, perfect for daily use for many consecutive hours.
Made in Portugal