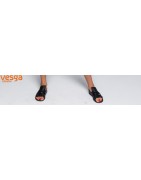 Women's Sandals
When the warm weather arrives and after many months using closed shoes look forward to take off clothes and cool our feet. It's time sandals, one of the oldest types of footwear on record as can be seen represented in bas-reliefs of Persepolis the ancient capital of the Persian Empire. Much has changed since then until now they have become a true fashion icon.
Best Sellers
Depending on our style and use that going to give can find all kinds of fabrications and models. They range from those made with synthetic materials to Premium made with high quality leathers that added to the original designs great comfort.
The sandals because they generally have a lower price than the shoes allow us to have fun and have several in different shades to combine with our summer clothes which usually has a colorful cheerful.

Among the styles of sandals can be found:

Flip-Flop, are typical fully flat sandals with a strap between the big toe and second toe longer straps passing over the foot and ending roughly at the ankle, are what we use to go to the beach or a look carefree and surfer.

Roman or gladiators, are those that have seen a ton of times in historical films. They can be to the ankle or higher to reach almost to the knee. They have various fastening systems, the most common adjustable buckles but there are many that are adjusted by straps. We few seasons that are very fashionable and we can see in all collections combined with different skins and ornaments most famous designers.

Slaves, are similar to the flip-flop but usually made of leather and here we can find different designs with wider straps and rhinestone embellishments or textiles. They differ in height, we can find with heels or wedges of different heights.

Comfort sandals, are specially designed to comfort and freedom of movement when walking. Often have padded insoles and good fastening systems, usually through adjustable buckles. The soles are flexible and in some cases can find sandals with removable insoles so we can swap why we recommended the podiatrist.

Dress for your events and celebrations or for partying can find sandals with high heels or wedges and platforms of all heights that combine with our gowns or our most chic clothes.
For women who do not like heels we can find all styles of sandals made with wedges or heels corridos are generally more comfortable to better distribute our body weight.

Ultimately footwear quintessential good weather, enjoy the different styles that you can find and walk along the beach ...