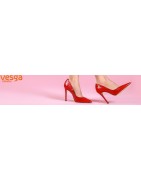 Women's heels
Dress shoes will add a unique touch to your style and they get a different and fashionable look.

The elegance starts with the feet and shoes women dress highlighted with their designs and manufactures femininity and sensuality while walking.
Best Sellers
The formal footwear is characterized by the height of her heels and wedges, arriving in the most aggressive cases large platforms. Usually begin with a height of 5cm but we can get them find more than 20cm, the use of heel is an art and it is recommended to start with the lowest height and work up gradually.

Dress shoes can take many classes and rhinestones florares metal jewelry. Tachas of all sizes and decorative elements of almost any kind.

The shoe's classic and timeless dress is called shoe salon is a shoe with the toe and closed heel with smooth skin. The toe may be sharper or more rounded, can find all kinds of designs. This kind of shoes are you well with almost all clothing and is a fixed we must always keep in our shoemaker.

Sandals, love designers and where you can find fashion and with a bolder look designs. We can find many styles, open toe, with closed toe, with open heel, with a closed heel. With strip or multitiras of restraint. In fancy sandals we can find all kinds of materials and finishes on metal skins, mimicking python skin, smooth leathers, skins etc recorded ...

Peep Toe, one of the latest trends is shoes with open toe. In some cases leading open heel and secured with an adjustable ankle buckle. In their combinations can lead ornaments on fingers or be smooth. The heel height can have different thicknesses from very thin needle called to the latest trends that offer semi-thick heels are more comfortable height for walking but just as stylish.

Booties, Trend, they are at all times chic collections. They may have different heights shank from the ankle are the lowest to those who pass the ankle. The finishes can be smooth skins with fur trimming or fantasies. Recent seasons there are many boots with open toe and open heel also be fastened by straps to ankle giving a spectacular look. Depending on the season in which they are engaged lining thickness changes and is more or less.

The women dress shoes is constantly evolving and we can find designs that are at the forefront of the latest fashion trends. Today offers feminine designs that adapt to the current urban woman who is dynamic and modern.