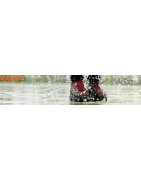 Women's Gore-Tex Boots
For the last 30 years the Gore-Tex brand is being designing and producing different shoe wear styles providing a technology that supplies moisture-wicking and waterproofing to our feet.
Best Sellers
Revolutionary Gore Tex women's boots
The operating of the Gore Tex membrane is simple, the pore's size is much smaller than the water droplets, making it impenetrable to liquid water while still allowing the more autonomous water vapour molecules to pass through. The addition of these two features provides us dry and aired feet.
Gore-Tex membrane is always protected, usually by leather or another high resistance material. The membrane is placed in the inner side so to avoid friction with the exterior and prevent it from tearing.
According to the expected use of the shoes (high or low temperatures, urban or extreme use) layers can be added. The number and thickness of the layers depends on the market demands and the use for which the model is designed for, it will be not the same for a Nordic country that for a Mediterranean one.
The Gore-Tex products are a synonym of quality and durability because before they get to our feet they are rigorously tested in laboratory and submitted to several trials so to guarantee their breathability and waterproofing performances. Every prototype must overcome underwater walking simulations of more than 500 km length without sensors detecting any moisture inside the shoes. Once they pass the test they must submit rigorous trials in real conditions. A pair of shoes showing the Gore-Tex seal have not only their inner membrane tested, but also they get their exterior materials tested on strengthens and lasting, not forgetting about lining materials and the stitching.
Gore-Tex is so confident about the quality of its products that if we purchase one item with the GUARANTEED TO KEEP YOU DRY slogan but we're not satisfied with it, they will exchange it or give us our money back.
Gore-Tex women's boots styles
Nowadays we may find shoe wear provided with the Gore-Tex technology for all purpose, we can classify them in three categories:
-For the outdoors life and countryside lovers: Gore-Tex shoes proposes you a high performance in any ground, whether if you're trekking or climbing. His long lasting waterproofing and amazing breathability will keep your feet in the ideal temperature, even under extreme circumstances. Some models, the insolating layer provides additional comfort and warm conditions.
-For urban and countryside runners: Gore-Tex shoe wear is the perfect choice for any environment, whether you run under drizzle or in dew. The outstanding breathability of these shoes and their optimized system to release heat provides a quick issue out to moisture and overheat produced during higher activity levels.
-For urban explorers: Urban explores have a different taste for shoes and climate conditions may vary whether they're out for working or shopping. The sun often makes way to the rain. The most important is to be comfortable. The Gore Tex membrane ensures long lasting waterproofing thus high breathability under any conditions.
Women's Gore Tex boots for a lifetime
When you feel comfortable with a pair of shoes it is important that they are easy entertaining so they have a long lifespan. The entertainment of a Gore Tex shoe is simple and will be focused on his external fabrics. We shall remove dirt with warm water; we will use a brush for leather shoes and a sponge for textile fabrics. We only recommend the use of water based products, oil-based products can compromise the membrane performance. The Gore-Tex membrane doesn't need any water repellent treatment, however, using it may protect the external material and help to keep it dry and free from dirt.
It is important to wear the right socks, as its nature has an influence on coziness and weather comfort. Wool socks can be used with winter boots and mid-calf shoes. These socks supply the advantages of high quality wool and convenient modern fibres features. The main disadvantage of 100% cotton socks is that they can get soaked, which reduces shoe's insolating properties and hinder the moisture escape. This can result into wet and cold feet.