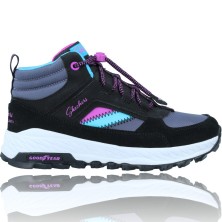 Regular price
€64.95
Price
€50.00
OFFER!
Urban ankle boots with a sporty and casual style perfect for enjoying comfort and style throughout the fall-winter season. They have a design that will allow them to be used by both boys and girls.
This casual shoe with an attractive design that is easy to combine has received a Water Repellent treatment so that we have our feet protected against water and keep our feet at a pleasant body temperature.
The Goodyear outsole gives us one more point of stability, durability and excellent grip on the different types of surfaces that we can find both in cities and in the countryside.
Skechers Water Repellent Footwear with Goodyear.