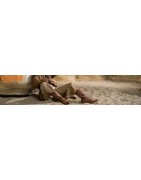 Women Boots
Can you imagine a winter without your boots?
Boots are an essential garment of women's wear and can never be missing in women's wardrobe. Perfect partners, there are several types for different occasions.
Best Sellers
Women's boots styles
We can find all different boots styles and with different features..
Over the knee boots
The ones that get over your knee, they slender your legs and give you this edgy "femme fatale" look.
They will never be out of fashion, since from the moment that fall season starts they will be trendy again. Their high will allow you to be protected from cold, and being so convenient you will be able to combine it with any outfits.
How to wear and match them?
We may say that knee-high boots are most demanded in brown colour and flat heel, so to match them with a light dress and thick tights, perfect for the fall season.
Other boots styles
One of the most versatile boots you can find! Flat or heeled, they match with most of the wearing styles. In casual way, with jeans and t-shirt, or glamorous, with a dress, so to look chic and fashionable.
They show assorted materials but suede and leather are the most popular ones. No doubt, they are the star product in our shop. After all, every woman has a mid-calf boots in her wardrobe.
Trendy boots are the ones seen in the last Fashion Weeks; London, Paris, New York or Madrid show the last fashion trends in boots and we have them all for you here. In our catalogue we have a great selection of the most influent name brands in fashion, so you will have the best style references to be fashionable.
Find the latest riot in boots, the ones you can see in it-girl's blogs, all our products are genuine and best reputation brands. The materials used in our boots are first quality ones.
Riding boots issue from the shoes used by horsewomen when riding. It is a flat knee-high boot, usually leather made. At the start it was wore for horse riding all along with tights, but lately their use spread and now they are combined with different out fits.
These boots are actually a classic shoe wearing item. Up to your knee and flat heel, they are a perfect shoe wear for every woman. You may have several different outfit styles in mixing them with different garments. They fit great with skinny pants or tights, slenderizing your legs and mixed with a dress they are perfect to show a chic bohemian style.
Our favorites because of their versatility. They are the every-day boots and they fascinate us for their comfort, which let us wear them all day long. Designs may vary from one to another but for sure there is one specific for every woman style.
Definitely, casual boots are the ones we use more often so it is essential that they are made with good quality materials, so they are long lasting and our feet are protected.
The smartest of their kind. Showed in weddings and all special occasions, dress boots are works of art made by the most prestigious designers. They often show high heels to slender your shape.
A dress boot has the power to transform a normal dress in the perfect wear for a wedding or a celebration. It is amazing how you a look can be turned around by only changing the shoe wear.
A boots style that becomes usual every season. They will concede their owner an aggressive or audacious look. It is great fun to combine them with a sweet dress and create an interesting contrast to obtain a sensational outfit.
Furthermore, they are very comfortable and resistant, so you won't have any limits when you're wearing military boots. They let you walk in any kind of ground without harming your feet.
Our allies in a rainy day or for long walks in the countryside. Perfect for adventure sports, they concede you the best toughness and comfort for your outdoor activities.
Thanks to the revolutionary material they are made off, you will be able to walk until your body gives out without caring about humidity or possible sores or blisters. An indispensable shoe for the most adventurer.
Because everybody has the right to wear the boots they prefer, there are boots with flexible and lycra high legs, so they shape beautifully your leg whatever your wide calf is. These boots are very versatile and are proposed in many leg highs.
Great to match with skinny leg-ins or dresses, it is a very common garment for fall and winter. Being so tight-fitting they will keep you warm in winter and you will love it.
A classic always in fashion. The biker boots are a current garment present every season in showcases, especially during fall and winter. They are very comfortable, warm and versatile.

Show your fighter side with this footwear, mixing it with skinny jeans and leather jacket o create a contrast style matching your biker boots with a muslin salmon pink dress that outstands the difference.
Inspired in the XVIIth century French King Royal escort's boots, this are extra long leg boots, usually over the knee and are leather made.

Musketeers boots are without no doubt, the sexiest footwear above all our catalogue designs. Ideal boots from fall to spring you will make a success matching them with a miniskirt or shorts. Dare to wear this fabulous boots!
We can find this boots with different types of soles and several heel highs, from flat on rubber sole to highest heels, slim or stacked, 10cm high or more. We're sure thatwe have the boots you're looking for, and the good news is that we propose them to you in the lowest price on the market. You won't find such inexpensive women's boots in first name brands and made with the very best quality materials.
Inexpensive boots
In Vesga Footwear we propose an attractive range of women's boots with exclusive prices that you will only find in our on-line shop. Our aim is to be able to present you the best women's boots models with lower prices than any other shop so you can provide your feet with the comfort of quality shoes in a price and be fashionable.
Find the style of women's boots that you're looking for as we dispose of all kind of models so you can choose your favorite. Don´t forget that we only work with the best brands.