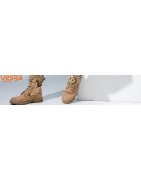 Men's Boots
Find the best selection of boots for men on the market at incredible prices. We haveboots and masculine boots of the best brands in fashion.
Best Sellers
Boots for men
Boots are widely used in the masculine sector footwear, since they allow to be comfortable at the same time elegant. Being so versatile it can be combined with different styles of clothing conforming to the style to perfection.
Half boots
These boots have a rod of 10 to 20 centimeters covering the ankle and a little moreleg. This footwear can be made of different materials: leather, gore-tex, leather or suede... The colors tend to be dark such as blue, Brown or black mainly.


Shank boots are suitable for outputs to the nature or in winter, since they preserve at the foot of cold and the obstacles that we can find.
Boots safari 
Safari boots are those boots that reach the ankle, manufactured in skin whose mainfeatures are its softness and resistance. They have been used much in camperos outfits and hence the colloquial nickname of "pisamierdas".
We normally find them with two rows of strings but we can also find models with velcro. As for colors, there are a wide variety of colors.


Military boots
A classic that never goes out of fashion. Military boots are, as their name indicates, ashoe inspired by the boots used by military personnel. They are characterized by having a rod approximately 15 centimeters, be made of skin from top quality, flexible sole and many eyelets for laces.
This type of boots is very used in aggressive styles, punk or breakers. They can be combined perfectly with jeans or pants tighter. In the latest men's fashion trends arepresent.
How to choose boots man
It is very important when choosing boots man taking into account various factors when you buy it so that becomes our best ally in more complex terrain or rainy days.
First, you must know the use of boots you want to buy, since it will not be the sameuse boots for rainy days of the big city or want boots man for the field. So, we will seek in the boots of man section if we want to find a pair of boots more formal or if on the contrary we want boots more robust and off-road will choose between the cowboy boots of man, man waterproof boots or boots for snow man.
In addition, should take into account that these types of footwear comfort is very important. Our recommendation is to use half number more so our foot has enough room to prevent chafing and keep in mind that the calcenites will be fat will need more space in our boots man.
Halfboots for men at the best price
Vesga shoes offer the best selection of boots men at an exclusive price so you can go beyond comfortable for you wherever you go.
Do not let your footwear to limit your destination, with our boots for men you get reach the farthest due to semiartesanales processes made by companies with whichwe work.
In our shop only online, you'll find halfboots for men's brands leader in both national and international footwear industry. Do not hesitate and find your favorite bootspair