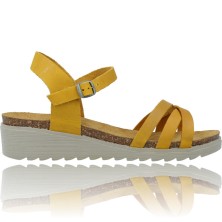 -€11.00
Regular price
€36.00
Price
€25.00
OFFER!
Casual and urban style sandals made with quality leather. We love the beautiful combination of colors in which this women's footwear is represented so that we can easily choose our looks this summer.
They have a medium height wedge with less than 5 centimeters high that will allow us to walk comfortably for hours also helped by the front platform of less than 3 centimeters.
It is a light shoe with a good grip, aided by the strap with an adjustable metal buckle that it has on the strap that passes through our ankle.
Made in Spain in an artisanal way.
Okios for Calzados Vesga .