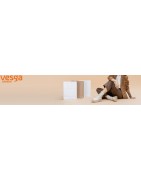 Women's Ankle Boots
The perfect partners for a fashionable look. We can choose them on a casual style with heels up to 5cm high, which are suitable to use them for hours all days of the week and the more daring ones, with heels higher than 5 cm. and more trendy designs that are perfect for your going-outs on weekends or to go to a party. Depending on the clothes you mix them with we can choose them ankle high, standard length or a little bit higher.
Best Sellers
Booties may be in very different styles and we shall find the one that suites the best to our needs.
To begin with, we must choose between heel booties(more stylish) or wedge booties (more comfortable), according to the use we're going to make of them.
Women's booties styles
Bikers booties for women
The on-going fashion trends leaves us a urban look slightly rock 'n' roll style. They're usually flat heel (to 3cm heel high) and thick rubber sole, although we may also find them with more than 5cm heel high, but always block heeled, so we can walk comfortably with them.
Designs are quiet diverse, we may find staple models in a classic way, although the last trends bring to us booties with metallic studs, chains and chunky buckles. These details make the difference between one model to another, according it more style.
Chelsea
The Chelsea are the classic booties with stretch bands on the leg so they are easy to put on. We may them flat or high heel or with big platforms for the more radical and aggressive models. The more usual are flat and mid-high heel, but they fit extraordinarily when they have brogues on the toe cap and give us a British look. Recently trends propose it to us peep toes for the spring season.
This last season this model reached a great success. It is because it fits perfectly with everything. You may use it with skinny pants, short dresses, miniskirts, long skirts… Any combination suits with this wonderful bootie.
Casual
Our every-day booties, they are usually mid-calf (fairly higher than your ankle) and we will be able to choose between mid-high heels or wedges (less than 5cm). They stand out for their high comfort and versatility, they are perfect to become our inseparable partners for a day-to-day use. We may choose between all kinds of toe shapes: round, square, pointy, we have here all styles of shoe wear. There is a great collection of models provided with quilted insole and synthetic soles which are flexible, slight and show a great gripping capacity on any surface.
This season, the most demanded were brown and black colors, with pointy toes. Para las más atrevidas se han utilizado materiales más arriesgados tales como el charol
Dress booties, high heel booties
Perfect for weekends, we can match them with our most chic wear and choose between different types of toes and finish . Trends brings us studs and chains, golden or silver, depending on the shades of our clothing.
Dress booties for women are very comfortable, as their heel is usually wide enough to provide stability y shelter to the foot, so you won't have the traditional foot pain.
We will find different fastening systems, being the most common the one with an inside zipper. There are models with laces, which are the more adjustable as we can tighten them as much as we want, mixed with zip and laces, with stretch bands (easy and fast putting on), with straps and buckles, etc...
Nowadays almost all booties have synthetic soles, which are light and flexible and light, although for spring season they come with leather soles for a better transpiration.
We can choose our favorite between round, square, snip or pointy toe shapes.
Inexpensive women's booties
In Vesga Shoewear we propose you a huge range of women's booties with a price you will never find in any other online shop. We only propose you the very first brands to ensure you will have the best quality in women's booties wear made with the finest quality materials and a half artisan production.
Along with this, if you trust Vesga Shoewear, you will enjoy all the advantages we propose to you during your purchase and in the shipping and refund process. It was never so easy to buy booties for woman thanks to our arrangements with the best brands in footwear.