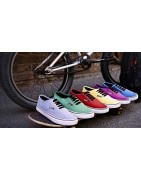 Men's skate shoes
Men's Skate Sneakers
At Calzados Vesga we always bring you the latest trends in fashion footwear. The most current footwear and the best brands are at your disposal in Calzados Vesga at very low prices.
Our extensive catalog of footwear is the most varied and current on the internet, and is made up of models from the best brands such as Nike and Skechers as well as the most cutting-edge designers of the moment, that is why we know that our products are always of the best quality.
Men's shoes are very varied, and we can offer you very different styles.
Best Sellers