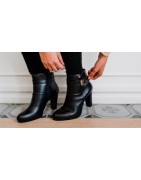 Women's heeled ankle boots
Ankle boots are the type of footwear that cannot be missing in a woman's wardrobe. They are comfortable, they keep you warm and support your foot, and they are also very versatile and you can easily combine them with any outfit.
Until a few years ago, we only saw ankle boots with pants but for a few seasons we have seen them with dresses, leggings, skirts, achieving really fantastic and original looks.
Heeled ankle boots are comfortable and perfect for everyday wear. You can combine them with any of your daily outfits because they will fit you perfectly. We can choose the height of the heels depending on the plan we have for that day.
Calzados Vesga is your trusted shoe store. Our online store has a wide catalog with heeled ankle boots in a multitude of heights and materials that you have always wanted at very attractive prices.
The style, simplicity and elegance of heeled ankle boots
Combine your heeled ankle boots with a casual dress and thick tights or tights, or wear them with leggings and a maxi sweater, or another option is with skinny jeans, in any case you will get a perfect look, fashionable and comfortable for your feet
Get everything you want with your ankle boots with heels. Put them on for your day to day and walk with them for long hours without getting tired and knowing that your feet are protected and well supported and always looking stylish on our feet.
A simple shoe that can be very elegant depending on the model you choose, or closer to a sport style.
That they are called heeled ankle boots do not have to be completely flat or very high, but you can also find them with medium heels, up to three centimeters or wedge ankle boots that will always help make the shoe more comfortable for your feet at every step.
Calzados Vesga has the ankle boots with different heel heights that you have always wanted, so you can get a comfortable look and in style this fall. Buy your heeled ankle boots in our online store, your trusted shoe store.
A style of ankle boots with a pointed or rounded toe, with buckles or closures of any kind, heeled ankle boots are perfect for every occasion and for every day.
Choose your ideal model and combine it with a children's dress with straps to achieve a sweet but informal look, or with ripped skinny jeans to achieve a current and fun look.
With a simple footwear Like this you can get some ideal combinations to be the center of attention wherever you walk.
Calzados Vesga offers you all the models you can imagine in a wide catalog of ankle boots with heels that you will love.
The heeled ankle boots country style , Texan or cowboy, they give you a more informal look, and ankle boots with a heel of up to five centimeters will give you a more casual and chic look. It depends on the style you are looking for, get a type of heeled ankle boots more in line with your needs.
Cheap heeled ankle boots at unbeatable prices
The boots themselves are comfortable and a classic shoe among the classics, which we could define as a perfect wardrobe background. can be used during most months of the year and match most of our outfits, even giving a more chic style to some of our most basic outfits.
At Calzados Vesga we have the season's heeled ankle boots, the latest news and the latest trends always at your fingertips because we have the cheapest and most attractive prices you can find.
We always work with the best designers and with the most recognized brands worldwide to bring to our online store the designs of the most prestigious brands, so that you have quality on your feet and always at the lowest price on the internet.
Our online store has exclusive internet prices and we work every day to always get the lowest and cheapest prices, with discounts, offers and sales throughout the year.
Get the best look that can accompany you both in your day to day and on dates with friends, to go to the movies, shopping or for a drink. Walk steadily with your cheap heeled ankle boots with attractive prices from Calzados Vesga .
Combine them with skinny jeans and choose ankle boots with a wide leg for a more casual look, or lace up ankle boots they will give you a more formal and serious style.
Buckles, studs or elastics with the classic ankle boots for the most casual closures, and laces for the most formal, you will always find a style that combines well with your favorite outfits. In addition, you can always get the models that you like the most at the best prices in the entire market if you buy them at Calzados Vesga .
Check the fabulous prices we have for you and how easy it is to buy in our online store.
Forget waiting in lines, to see that the model you want does not have your number or has sold out, and of course, forget about carrying your shoes home. At Calzados Vesga we make it very easy for you to buy those waders what do you like or wedge boots what were you looking for.
Enter our online store now and with just a couple of clicks you will have a wide selection of low ankle boots waiting for you with the lower prices that you can find Choose your model and in just a few days you will receive them comfortably at home.
Don't think about it anymore and complete your style with the women's ankle boots low this season.
Best Sellers