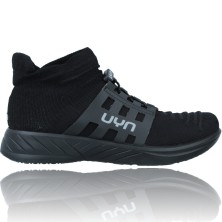 Regular price
€129.00
Price
€79.00
OFFER!
Progress has come to our feet thanks to UYN and its models made with Merino Wool. These booties are flexible, eco-friendly, waterproof and made in Italy.
Its design is like the materials used in its manufacture, very innovative and we are passionate from the first glance.
Once we take them out of the box and put them on our feet, we are surprised by the softness of their materials and the ease with which they adapt to our feet.
We went out to test them and walked with ease and comfort but we noticed their comfort and excellent cushioning system when we hit a short run.
It doesn't matter if it rains or it's cold, its Water Resistant treatment and its merino wool lining guarantee us to keep our feet dry and a pleasant temperature at all times.
UYN Made in Italy.