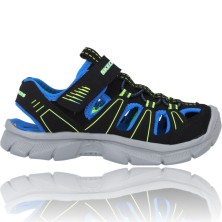 Regular price
€44.95
Price
€29.00
OFFER!
Availability:
Out of stock
These pretty sandals with a closed toe and open heel are known as fisherman sandals or slingback sandals.
They are made with synthetic fabric with which we will be able to walk with great comfort and at the same time show off a beautiful design on the children's feet.
Their cheerful colors draw people's attention and they are very easy to combine. In addition, these dark tones are very suffered so that the spots are less noticeable.
It is a light, flexible shoe that has an adjustable velcro so that the little ones have their feet well secured inside these sandals.
Skechers Kids.