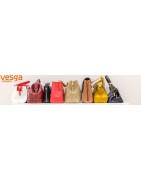 Women Bags
The best bags from leading brands at irresistible prices. Find the best deals on the market.
Bags for women
One of the must of all seasons. Any outfit remains incomplete if there is a bag or derivative where to save things. And it is that there are thousand kinds of different handbags for women, one for every occasion.
Carry a bag is not only need to be able to carry your personal belongings with you and having your hands free to do whatever you want. It is an element within the style, it is another element of the composition which is an outfit.
The bags are a must-have accessory in our outfits. They reaffirm a clothes style andallow us to bring everything you need from day to day. They do not make life easier and many times they leave a trouble.
A bag for every moment
There are countless types of bags for women. Large bags to carry everything you need to be a woman who knows how to resolve any unforeseen (purse, makeup, agenda, first aid kit, ipad...) whose designs are as varied and beautiful. Transport can alsovary significantly, handles great, short handles and a single handle as a Briefcase, abandana to carry it comfortably or two handles in the form of a backpack.
Female type Clutch bag
For events more exclusive have different small and elegant handbags that combine perfectly with your style. Not to be in a wedding or a party you should dispense with your mobile phone or your lipstick. These bags allow you to be well equipped in situations of any kind as well as completing the styling to dazzle there wherever you are.
Maxibag
Ideal for the working days where we need to take with us many things. Toiletry bag,makeup, agenda, ipad, portfolio bag... Everything comes in a maxibolso.
You can find it with short handles, or with slightly longer handles, and thousands ofcolors and textures, we are confident that we have the busacas design.
Shoulder bag
A little more casual we shoulder strap, one of the more comfortable bags for women that exist, its unique and long handle allows you to hang it on one shoulder diagonally and to have complete freedom of movement to do what you need.
Ideal for students or workers since that tends to have perfect measures of books or laptops.
Classic bag
The most common of all. Medium size, pose a unique long handle adjustable to be able to adapt it to our needs. Normally it comes equipped with various internal pockets that allow us to have all our things neat.
Designs offer endless combinations of colors, textures and styles.
Clutch or tote bag
Ideal for large events or elegant estilimos. Many of them are real jewels of precious stones and design.
Most of these models are precious treasure chests that have embedded rings whereto insert fingers, integrating it in your hand as if it were a jewel.
Briefcase
Carrying cases are ideal coworkers for any woman. Its amplitude can carry everything you need and also their designs allow to show a chic appearance that customers or co-workers will broadcast reliability and professionalism. You will take as you needa totally comfortable.
Purse
Purses are the indispensable where you will take money, credit cards, business cardsor any important documentation that you need to take with you. Any woman will always take a purse, and if the design is nice and together with the clothes better.
Collection of handbags and accessories. Handbags, backpacks, bags of cocktail andparty bags. Perfect to complete your look. Accessories, cords, cleaning supplies